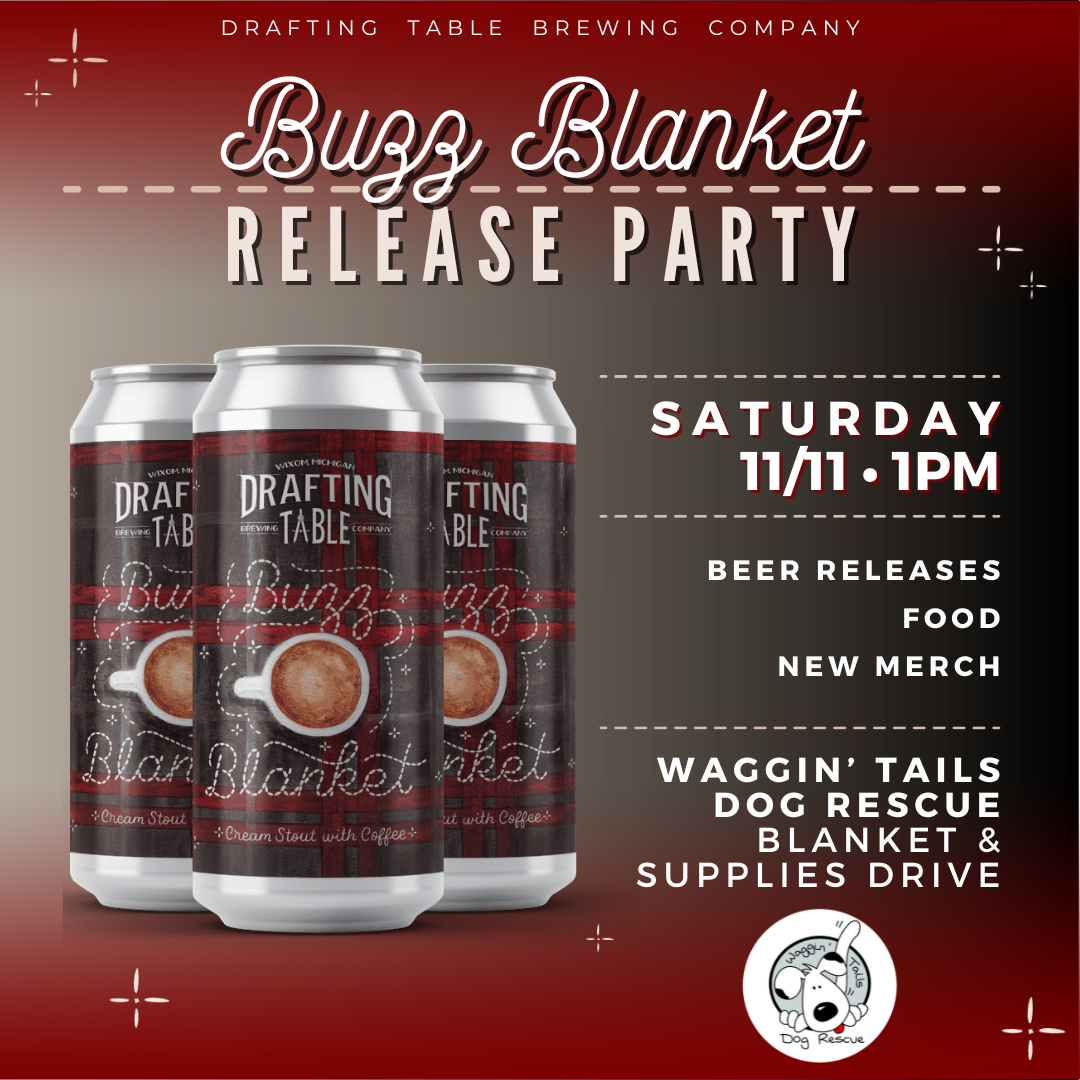 Buzz Blanket Release Party
Each year we kick off our holiday season with the release of Buzz Blanket. This is our cream stout brewed with lactose and coffee from Higher Grounds in Traverse City, MI. It's smooth, creamy, and sweet with a balanced coffee flavor – 7% abv.
Check out all the details about the release below.
---
Special Draft List
• Buzz Blanket
—  Cream stout with coffee – 7% abv
—  Also available in 4pks to-go.
• Fluffy Buzz Blanket
— Cream stout with coffee and marshmallow fluff – 7% abv
— Draft only.
• Cinnamon Toast Crunch Buzz Blanket
— Cream stout with coffee and Cinnamon Toast Crunch seasoning – 7% abv
— Draft only.
• Maple Bourbon Barrel Mean Vanilla Bean
— Imperial stout aged in spent maple syrup bourbon barrels with Madagascar vanilla beans – 15% abv
— Draft only.
---
Buzz Blanket Gift Bundles
Includes…
• [1] Buzz Blanket 4pk
Our Cream Stout with coffee. 7% abv
• [1] Soy Buzz Blanket Candle from Renewed Spirits Candles LLC
Natural soy wax candle that is clean burning and free from parabens, phthalates, and carcinogens. It has a Java Jive scent and is in one of our Buzz Blanket cans.
• [1] 2023 DTBC Holiday Ornament
• [1] 12oz bag of whole coffee beans from Higher Grounds Trading Co.
This is their Bolivian blend, it's medium roast, and is the same coffee we use in Buzz Blanket.
• [1] 16oz Bourbon Barrel Aged maple syrup from Droscha Sugarbush
This maple syrup was aged in the same bourbon barrels that our Maple BB Mean Vanilla Bean was aged in. It will also be on tap at our party on 11/11.
Total Value = $80 + tax & deposit
But at our party on 11/11, it will be for sale for $10 off
= $70 + tax & deposit!
* Members can also stack their 10% discount on top of this discounted bundle price on 11/11 only.
* Bundles are limited.
* Must be 21+ years old to purchase.
---
---
Blanket and Supplies Drive
for Waggin' Tails Dog Rescue
Waggin' Tails is a local dog rescue, and we will be collecting items for one of their rescues, Arnold, who will be undergoing a total hip replacement surgery soon.
Blankets – must be clean and gently used (or new!)
Items from Arnold's Wishlist on Amazon:
Bring in one of these items and you'll receive $1 off your first full pour of tier 1-3 beer + you will be entered in to win a $25 gift card to DTBC. We will notify the winner via email on Monday, 11/13.
About Waggin' Tails Dog Rescue:
They are a 501(c)(3) non-profit organization run solely by dedicated dog-loving volunteers. Their dogs, of all breeds and ages, come from crowded shelters or as owner-surrenders and all of their dogs receive vaccines, spay or neuter surgeries, and are treated for any medical or behavioral issues that may arise before we help them transition to a new home. They are a foster based rescue in that they don't have a shelter space, all of their dogs are in foster homes, and they are run by volunteers so all money raised goes directly back to the dogs.
More information can be found here:
https://www.waggintailsdogrescue.org/