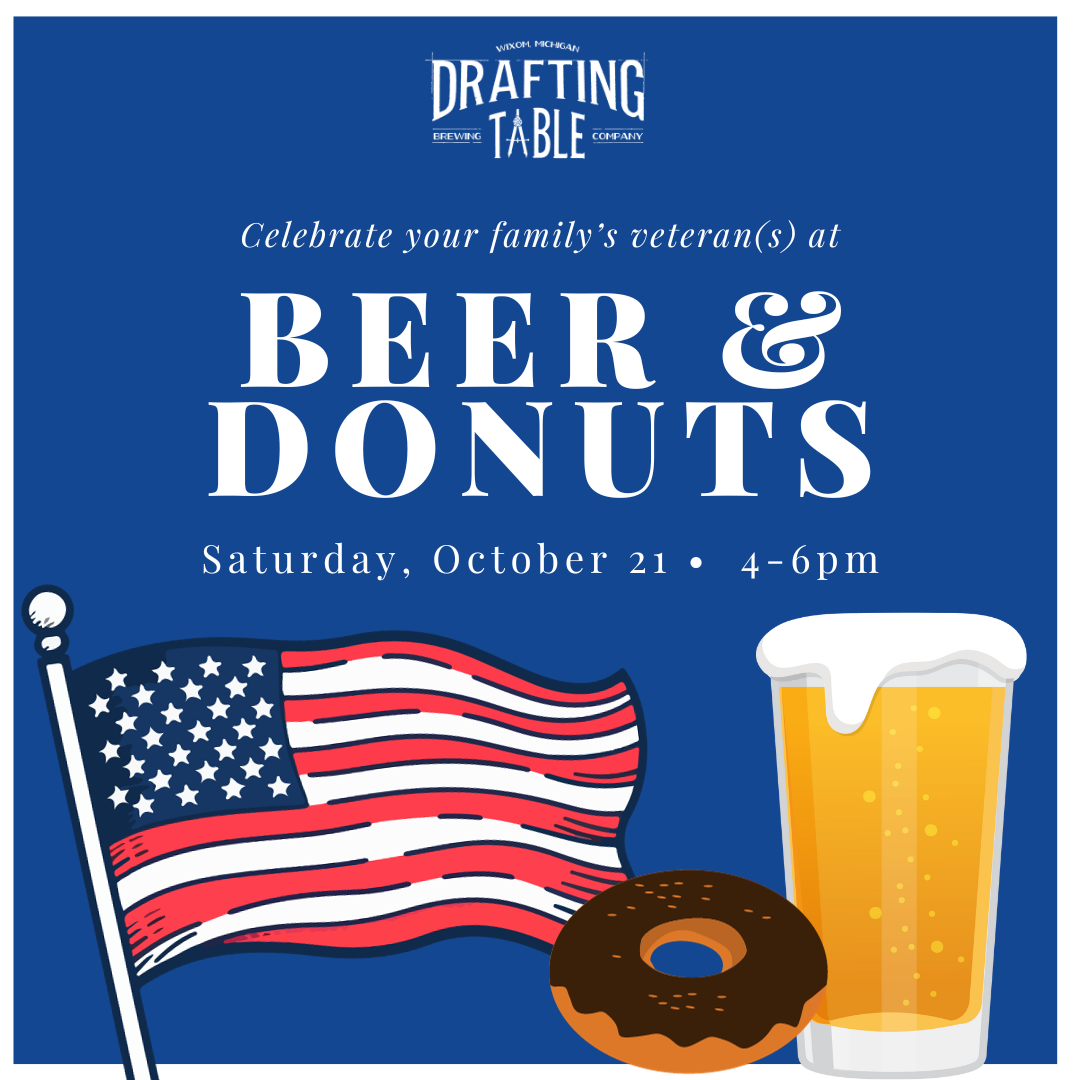 Join us on Saturday, 10/21 from 4-6pm to celebrate your family's veteran(s) with beer and a donut.
The Story Behind BEER AND DONUTS
Ford Isanhart, served in the US Army Air Corp, 8th Air Force (heavy bombers – B-24's) in England in WWII, where he was given the nickname "Ike" (as Isanhart sounded like Eisenhower).  After the war he lived in Chevy Chase, DC, from the 1950's until his death in 2016.  In his later years, his niece and her husband (Roberta and Russ Meredith), who lived nearby, in Maryland, would look in on him and help him with some everyday thing (a bit of cooking or house work and other stuff).  After Ike passed, Roberta and Russ were doing some cleanup at Ike's house.  While there they found a receipt form a local store for beer and a box of donuts, and a note from the delivery guy saying how much he appreciated Mr Isanhart taking time to talk with him and tell him of his "adventures" in the war.  They called the store, to let them know about Ike's passing and ask about hate beer and donuts order.  It turns out that while Roberta and Russ ensured Ike had home cooked meals and meal-on-wheels delivered, Ike left most of these item in his refrigerator, and would order a 6-pack or beer and a dozen donuts TO BE DELIVERED for last year to 18 months of his life.
Ike was buried at Arlington National Cemetery, with full military honors, and family came form several states for the event.  Washington DC area traffic is awful, and so to ensure everyone arrived at the ceremony on time, Roberta arranged for a bus to pick the family members up at their house and bring them back.  For the ride home, she had picked up some beer and donuts onto the bus, and everyone had one in Ike's memory.  Several family member continued to remember Ike on October 21st with a beer and a donut, and so the tradition was born.
So gather with Roberta, Russ and others to celebrate your family's veteran(s), those still with us, and the memory of those now on eternal patrol, at The Drafting Table Brewery, on October 21st, form 4-6PM.
Enjoy a free donut and pick up a $1 off coupon for your first drink when you come in while supplies last.